A Word from Ashley:
"Ever since I can remember, I have wanted to help people. My time in school was simply finding out how I wanted to do that. When I stumbled onto the field of counseling, whether individual therapy, couples counseling, or life coaching, I knew I had found my professional home. When I was young, I was told 'Find something you love to do that doesn't feel like work and make a living doing it so that you never have to 'go to to work' or retire and you can give back to your community doing that thing that you love.' That message has always stuck with me. I feel so fortunate to be able to love what I do every single day and not only help others to be their best selves, but to learn more about my Self in the progress of helping others on their journey!
My deepest passion related to counseling is to help 'empower women to discover their voice and heal their relationships.' I love helping women embrace their strong Selves unapologetically as they become more confident. Given my own health journey, I also have extensive knowledge on how to integrate holistic healing into my work with others, such as the connection between nutrition and mental health and using over-the-counter amino acids to safely and quickly treat symptoms. This ability to support people as they heal naturally also is informed by a diverse set of credentials that I believe helps me to meet the needs of others' complex Selves. My time in India has also taught me the power of integrating religious and spiritual healing in the process of therapy (when someone desires to do so) in order to provide the deepest level of healing. 
Anyone who knows me will tell you that I am a passionate person. I do what I do because I want to make sure that the outcome is successful. If you decide to work with me, you will find that I am sincere in my care about you. The work I do is a way of life. This is illustrated by the fact that I rarely have unanswered messages in my inbox, which is a standard I have also set for my office. And, I always strive do the same work I encourage my clients to do, whether that is practicing mindfulness, eating well, exercising, or holding boundaries as a practice of self-care.
I have been told many times that, even for those who have worked with multiple counselors, I have shown them more about themselves than they ever thought possible. This is what therapy is all about. It's not "just talking." It is being so present in the connection between you and another person that you cannot help but clearly see that person's journey – past, present, and future. I share this because I believe that this is the kind of growth that can take place when you find a right 'fit' with a therapist that speaks to your whole Self – body, mind, and spirit."
Education & Trainings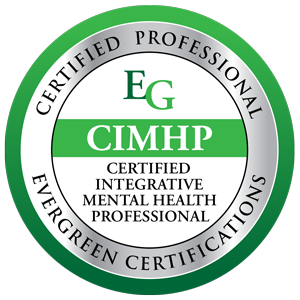 I earned my undergraduate degree as a double-major in Religion and Philosophy and minored in Asian Studies. I received my Master of Social Work degree from Boston University and am both a Fully-Licensed Social Worker and Fully-Licensed Marriage and Family Therapist. My additional credentials include: Certified Integrative Mental Health Professional (CIMHP), Certified Nutrition Recovery Coach, Certified Alcohol and Drug Counselor, Nutrition Network Practitioner, Certified Acupuncture Detoxification Specialist, and Journey Practitioner. I have also been trained in Trauma-Focused Cognitive Behavioral Therapy, have completed Level 2 Gottman Couples Therapy Training, and sm a EFT/"Tapping" practitioner.
Specialties
I have extensive experience with the topics of addiction/substance abuse, trauma, chronic pain/illness, and couples counseling. However, my true passion is offering holistic counseling and interventions to worrying women and Highly Sensitive People/Empaths, integrating mindfulness and education about the connection between nutrition and mental health.
Pronouns Used
She/her/hers
Fun Fact
In my downtime, which I takes very seriously, you will find my reading, meditating, gardening, doing yoga, spending time at the barn with my horse, Atlas, or going to car shows in my hot rod truck, "Skippy."